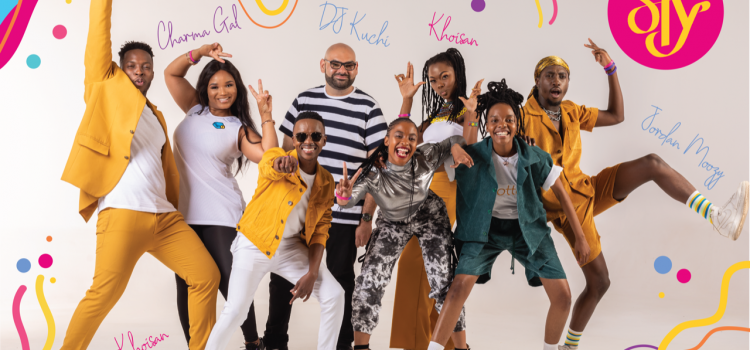 DJ Kuchi leads allstar team including Han-C, Dato Seiko, Jordan Moozy, Charma Gal & Khoisan on collaboration hit 'SKY Anthem' Local producer DJ Kuchi...

DJ Kuchi leads allstar team including Han-C, Dato Seiko, Jordan Moozy, Charma Gal & Khoisan on collaboration hit 'SKY Anthem'
Local producer DJ Kuchi has collaborated with teen girl brand SKY Girls BW to produce an empowerment anthem for girls across Botswana. The single, titled 'SKY Anthem' is already gaining radio airplay as we enter the festive season.
The featured artists on the song are Dato Seiko, Khoisan, Han-C, Jordan Moozy, Charma Gal and newcomer Gaone, a 14-year-old girl.
DJ Kuchi, who created and produced the song, said:
"I was excited to be approached by SKY Girls to make a song for them. It was a great opportunity to collaborate with the best local talent, some that I've worked with before and some that I've been hoping to work with for a while. We have so much talent here in Botswana and the experience of creating the song with these diverse artists was really cool."

SKY Girls is an empowerment brand for teenage girls. It was launched in 2014 and has been so successful in Botswana that it's since been rolled out in Zambia, Ghana, Kenya and Cote D'Ivoire.
SKY Girls spokesperson Gaone Manatong said:
"We wanted to celebrate SKY's success and also give people a positive song to enjoy at the end of a difficult year. So we asked the SKY Girls which artists they would want to feature on a SKY anthem and we are so grateful all these amazing artists agreed to work with us. We also featured an actual SKY Girl called Gaone who is an up-and-coming rapper and got the chance to feature on the song too. We are really proud of the song and we hope that it helps teenage girls feel empowered and heard."
The official music video launched on Friday 4th December and has racked up over 20,000 views in the first 2 days. It was shot by Director Mo at Bojanala Waterfront with styling by King Vanderbilt, and features all the artists plus SKY Girl dancers and celebrity cameos including Sadi Dikgaka, Tshepi Ess and Brian Rasesa. The 'SKY Anthem' video is receiving praise for its vision and execution.
About SKY Girls BW
SKY stands for 'Sure Ka Yone' and 'Shapo Ka Yone.'
SKY Girls are teenage girls who have defined the things they love (Sures) and the things they don't want in their lives (Shapos). Since launching in February 2014, over 25,000 girls have taken the SKY pledge; a personal promise to stay true to themselves. Any teenage girl can take the pledge by sending an inbox message to skygirlsbw Facebook page!
SKY girls express themselves through fashion, art, music, poetry, dance and through how they live their lives. SKY provides the platforms to support the girls in following their dreams and ambitions.
SKY's channels include:
SKY Live radio show (12.30pm Saturdays on RB2)
SKY Magazine (delivered to schools 3 times a year)
Social media presence (over 120,000+ followers on Facebook, 15,000+ on Instagram)
YouTube show 'The Mix' (currently airing its first season)
Visit www.facebook.com/skygirlsbw to keep up to date with SKY activities.