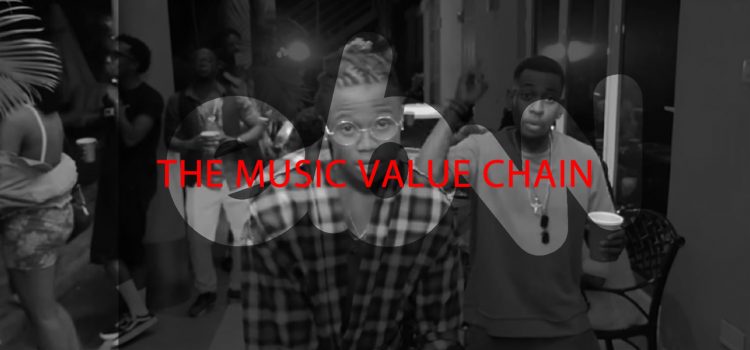 Some of the sponsors on the night will have awarded cash prizes ($$$), some will get endorsement deals and some sponsorships of sorts. We've...

Some of the sponsors on the night will have awarded cash prizes ($$$), some will get endorsement deals and some sponsorships of sorts. We've decided to have look at the winners at the 2019 ceremony through the wallet's eye, the artist's wallet that is. How are your favorites a.k.a the award winners from this past ceremony fairing in terms of capturing part of the value generated against their product. Some will win awards, some have been nominated and some obviously didn't make the list, so we go category winner by category winner to interrogate the business related.
Winners:
Best DJ – DJ Scratch:
Someone made the argument on social about why DJs get nominated for a music awards show if they've not released any music and I have to say I do not know why either. For all we know DJs do make money gigging on most weekends, dare I say though that most of the music they play is still outer-national, I do not know Scratch personally but I do know for sure he's one of the most booked. It would be interesting to hear from him how being the 2019 award winner will impact his personal income and views on being a DJ without actual music out.
Artist of the Year/People's Choice – Han C:
Han C has been one of the most impactful artists of the last two year's having won an award since the first ceremony where he was celebrated. He ran with that first award dropped an album, two heavy singles and countless feature on the year in review. He was probably one of the most booked artists of the period and definitely made a lot of business in 2018. It's safe to say he's not just winning awards but he also winning the bag race if at all there is one. He also won a cash prize courtesy of a sponsorship by FNB, overall a great year in business for him.
Song of the Year – MMP Family feat Charma Gal –  Tuesday
Best Kwaito – MMP Family feat Charma Gal –  Tuesday
Best Collaboratio – MMP Family feat Charma Gal –  Tuesday
MMP Family are a great example of how to capitalize on the good PR, great decisions around management and churning out the music that will win you the awards and get you the business you need to keep going. They also won one the awards sponsored by FNB Botswana on the night, their bag is certainly being taken care of well judging by the number of bookings. It's also interesting to note that they did drop an album in the period.
Best Male Single – Berry Bone feat Han C – Mafurafura
It's never easy determining the kind of business that producers make from their money especially when they don't happen to be deejays. The truth of the matter is Han C will probably make more money from this collaboration that Berry Bone even though Berry owns the song. Mafurafura, written by Han C was one of 2018 biggest joints and I don't seem to remember Berry headlining any big gigs. The issue of performance rights comes in here, where the best possible way for the song owner to make money is for mechanical deal to be struck by the two camps. He could also license the music and give it further longevity by getting brand deals going around the music. That said it definitely points to the need for the art community to morph the performance space thereby allowing for producers and other indie brands to capitalize on their it tracks.
Best Newcomer – Ice Cold Mob
Best RnB – Ice Cold Mob
Ban T and Han C are some of the previous winners of the newcomer award, the 2018 category was hotly contested and I personally had my money on Motlha to bag this – I've good-naturedly been proven wrong and I'm actually happy to see twists like these take place in the BW. Ice Cold Mob came in with a fresh new flavor and their winning song also happened to bag them the best RnB award. I'm not sure how they fared money-move wise but 2019 is certainly the time they should be prepping to secure the whole bang. Botswana is ready for a new sound, not just your regular-degular but something to keep them moving besides the dominating sound of dance music and how much gwalla they'll come make waits to be seen on the other side of the year 2019. Congratulations on this achievement fellas!
Best Female Single – Thato Jessica
She was nominated in the Best RnB category which was bagged by Ice Cold Mob but went on to win the Best Female Single, it's also worth noting that she was the only female winner (if you discount Charma gal's MMP Family collaboration). Thato Jessica's pivot from gospel music to the mainstream was a well calculated move for the songstress, her song 'Problems' with Veezo bangs and one wouldn't be blamed in thinking it was an import at first listen. She's smooth, understands her vocal range and can actually make heavy music. The urban sound in BW struggles to penetrate the big money market though, like…Charma Gal, Vee, Franco and Dramaboi type mainstream penetration. We'll be awaiting to see just how much leverage her award-winning status outside of getting radio spins. CosBots doesn't seem to pay that much so we can't really say her money will stream through from that avenue, we're wishing Thato the best of luck especially as she's already exploring international avenues for her music.
Best Hip-Hop/Motswako – Ban T – Don Dada
If there's one artist that has understood the value of branding, momentum and riding the wave that you create as an artist – it has to be Ban T. The 'Why So' star has been churning out steady work for the past 3 years, winning a few awards on that journey and basically influencing and challenging the known sound of the leaders of the new school; you really would be in denial if you thought otherwise. I gave him no chance when I saw the nominees' list but then he won it – deservedly so and in the true mark of someone that knows how to cultivate business he went for the bag and is intending to hold onto it. #OTV aka Off The Vapours with Veezo just dropped and it's sure to sustain him for the next six months or so, that's a sure way to ensure you're on the line-up for some of the years earliest concerts and keep you in the promoters corner.
Icon Award – Mr O. Wannete
In a continuation of the conversation around promoters and bookies, last year was certainly a monster year for Mr. O. He did win the recognition that he's deserving of by bagging the 2018 Icon Award at the YAMAs. He also happened to have received a lot of business as he played some of the year's biggest shows including G.I.M.C. The award also sets him up as a firm favorite to be an MVP in the deejay space for the coming year, on the bookies will want to have on his line up. He's also dropped hints at dropping new music, which would really help make sense of the 'deejays being nominated even though they have no music out' thing.
Social Media – Boogie Sid
This category had 8 nominees in it, some of whom were and are true social media favorites. I asked the question in a discussion with Kedi of Yarona FM and Kwaku Gyanteh how this award's nominees list made sense in the context of a music award show and I guess Boogie Sid winning it kind of brings it home then. Social Media is a huge part of music marketing and digital as a whole has definitely shaped the way people, interact with, create business and grow fan bases. This man here is winning this award for the 2nd time and it would seem he knows exactly how to work these tweets to make the business count. Congratulations Boogie!
Best Dance Single – ‪#DjK1 ft ‪#BennyT &  ‪#JackieQueens
I really love DJk1's song, in truth I did not even know the song was local. It's puzzling then to think about why he was not the festive seasons most booked Dj. Re a inyatsa tota rele Batswana, I might be judging us harshly but if this was some Harrison Crump or Loui Vega song some of you promoters would have been clamoring at his signature in order to have him headline your Palapye Clap Your Hands and so on. The truth is K1 probably has not done enough to expose his brand to the right people and therefore needs to do a bit more to build up on his win from the 2018 YAMAs. His affiliation with Dj Benny T should help him and I certainly wish to see us having a new house music superstar in the BW. We're hoping that the conversation around how much business he made is a lot more fruitful at the end of 2019. Way to go #K1!
Best Producer – Bangu
Let's rest a little bit here on the meaning of this award here and the money related to it. It's the freaking music awards guys and one of the most important elements to making some of your most loved music is the production, putting the songs together takes a whole lot of work. Someone has to be sitting somewhere building the stems together, getting inspiration, working with a composer, testing the melodies, being led by a songstress' idea and finally putting it all together when the overall beat is done to give you your favorite productions. There's a few levels to this whole producer thing and the money really isn't that handsome. Bangu's influence in the sound of the BW has been immense in the last two years and I think it's safe to say there's a bit of business that he's been realizing together with the team at hearbeat sounds. What I'd really love to see is for everyone that's involved in the production value chain getting checks as long as those bagged by the artists they make the music for. Shout out to all of BW's producers, the very people that lay the baseline for the music that results in there being awards shows because there wouldn't be a need for award shows in modern music without the beat to keep the music going.